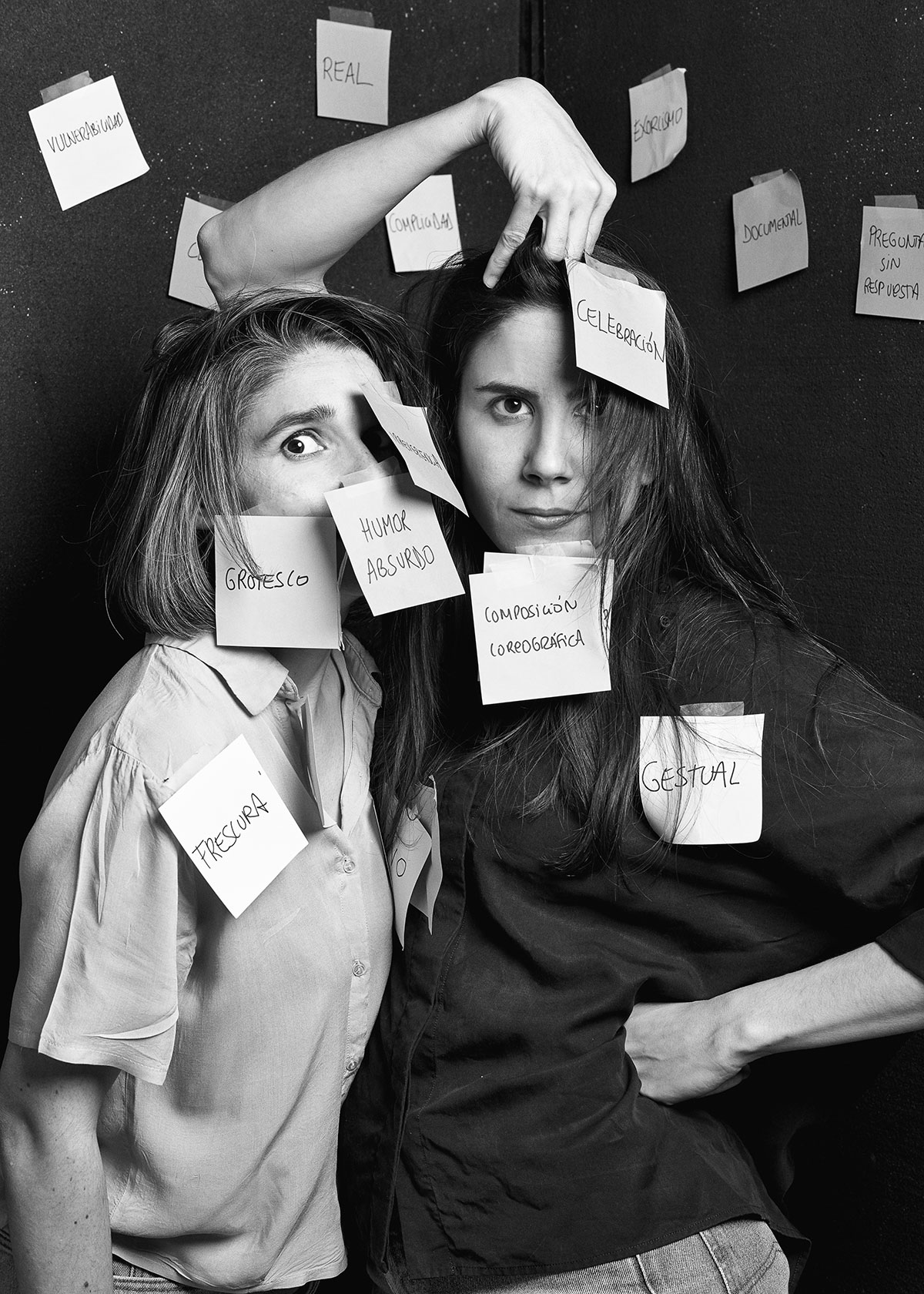 The directors and playwrights, Noemi Rodríguez and Andrea Jiménez are Teatro En Vilo that currently works as a platform for international and interdisciplinary collaborations between stage creators, artists and researchers from countries around the world.
The company pursues a constant dialogue with its social, political, and personal environment which forces it to constantly renew its artistic language. The company seeks to position itself on the fine line that separates theatre from life and fiction from reality. Combining the improvised and the choreographic; the grotesque and the autobiographical; absurd humour and physical comedy; and tenderness and irreverence, Teatro En Vilo has embarked on the exciting adventure of trying to unravel the time in which we live.
Since its creation, Teatro En Vilo has visited numerous European cities and toured much of the Spanish territory with its shows. During its travels, the company has had the opportunity to step on the stages of prestigious theatres and festivals such as the CDN (Spanish National Theatre), Teatros del Canal, The Conde Duque Cultural Center, the Edinburgh Fringe Festival, the BE Festival, the Buffer Fringe and the London Mimetic Festival. The company has also received numerous national and international awards, including the 2019 Ojo Critico Award, "Jury Award" and the "Audience Award" at the Presente Futuro Festival in Palermo, "Best Emerging Company" at the Mimetic Festival and Talent Madrid 2013. 
It is worth noting the collaboration of important cultural institutions in the production of their shows such as the Lavoir Moderne Parisien, the Arts Council, the National Dramatic Center, the La Caixa Foundation or the Circo Price Theater, as well as the pedagogical work developed through their courses at cultural centres and universities such as the University of Oxford, the University of Bologna, the Universities of Puna and Calcutta, the National Dramatic Center or the School of Performing Arts at Girne American University (GAU).
Link: Teatro en Vilo
Zoom Chat
TUE 17th SEP / 7 PM (UK)
To attend this conversation and be able to pose questions, REGISTER for FREE (there is limited capacity).
"We met Andrea and Noemi at the Edinburgh Fringe; they were performing their first show as a company, Interrupted, as we were about to do our Don Quixote. That year, as well as sharing a technical manager, we discovered a common playfully irreverent sense of humour.
Teatro en Vilo, now based in Madrid, go from strength to strength and their critically acclaimed productions gather awards internationally.
There have been many artistic adventures since we flyered each other on a busy Edinburgh street and we can't wait to chat to them about it all. "

'She makes it happen' is a series of online conversations with leading international artists of Spanish heritage; supported by Spain Arts & Culture and Embajada de España Londres.